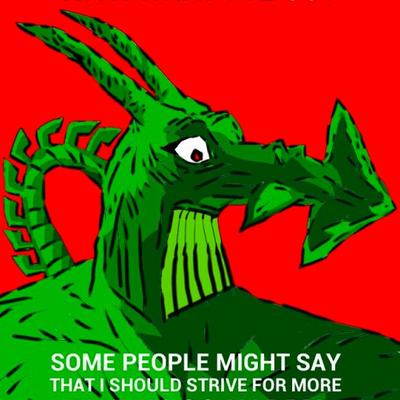 Reuben Willmott
+

Your Authors
Archive
@MrBitterwitter
[Nemesis art by Martin Hand]
May. 27, 2018 13 min read
I've got hold of some old UKCAC booklets and over the next week I'll be sharing some of the work within.
Back in the day UKCAC was the only major comic convention in the country.
1987:Jim Baikie cover. Also seems to be signed by Walt & Louise Simonson.And the big mutant event was

Will Eisner's meeting of Holmes & Spirit, Robin Smith- Judge Dredd, Mick McMahon- Last American and John Higgins with some characters he drew for a Judge Dredd annual.

John Bolton-Wolverine, Garry Leach- Herbie, Cam Kennedy (just a sketch or do I just not recognise the characters?)& Mike Collins- Cyborg from Teen Titans meets Axel Pressbutton.

Red Hood by Brian Bolland, Marshal Law by Kevin O'Neill, John Constantine Hellblazer by Dave McKean and Slaine by David Pugh.

UKCAC 1990: cover by Gary Leach
In this year Deadline was doing well despite tasteless adverts.
Plus things were already gearing up for the launch of Toxic! Weekly. Kevin O'Neill did an exclusive Marshal Law piece for this booklet.
Marvel Uk was doing ok.
Optimism was in the air.

David Hine, Nick Abadzis, Mark Farmer and David Pugh.

Mike Collins, Colin MacNeill, Brian Bolland and Alan Davis

Norm Breyfogle (I do love that Dark Knight picture there), Aidan Potts, Woodrow Phoenix and Dave Gibbons

Steve Whitaker, Robin Smith, Phillip Bond and Bryan Talbot

And finally for today...
D'Israeli, Steven Appleby and Paul Grist.
There's still loads more in this book I haven't featured here...

UKCAC 1992: As you can see on the Gary Erskine drawn cover, Tundra UK was sponsoring the show. Inside Tundra explain why they're becoming Atomeka.
Martin Hand draws the people supposedly running UKCAC.
Kevin Walker draws the cover for the list of panel times.

Marvel characters by Mark Buckingham, Charlie Adlard, Glyn Dillon and my favourite piece in this booklet by Phillip Bond

TRIGGER ⚠️ WARNING : DENTIST!
Mock comic covers by Hunt Emerson, Rian Hughes, Sean Philips and Davy Francis

Woodrow Phoenix, John McCrea, Bryan Talbot and Roger Langridge

Mike Collins, Paul Grist, Darrly Cunningham and Arthur Ranson

And finally today...
Duncan Fegredo, Banx, David Hine (always thought it a shame he stopped drawing comics preferring to write them only instead) and something for the old readers of Toxic! by David Leach.
More wonky photos tomorrow...

UKCAC 1993: The year when the convention booklet started to be printed on cheaper paper.
Still had a marvellous cover by Dave Gibbons and Steve Whittaker.
Dean Ormston provided the schedule supplement cover.
And these were the future thrills for 2000ad readers.

I think this Bryan Talbot piece deserves a tweet all to itself.
You'd print they would of printed this on the centre pages, but no...

Woodrow Phoenix, Charlie Adlard, Gary Frank/Cam Smith and Paul Grist

Oscar Zarate, D'Israeli, Frank Quitely (wasn't this one used as a cover of Judge Dredd Megazine?) and Duncan Fegredo

Ian Gibson, Chris Weston, Darryl Cunningham and Shaky Kane

Now you may need to sit down for this one. I've found some women contributors! There's not many in these booklets, I can tell you.
Jill Thompson, Trina Robbins, Rian Hughes and Mike Collins/David Roach

Dom Regan, David Pugh, Peter Doherty and Carl Flint

Phillip Bond, Sean Phillips, Roger Langridge and Jon Beeston who did some comics work in the 1990s then vanished

And finally for today...
(Despite these getting longer everyday, I'm still missing loads of work out.)

Kevin Walker, Mark Farmer, Davy Francis/John McCrea and Martin Hand (the person who did my Nemesis avatar)

Tomorrow, a Kirby tribute...

UKCAC 1994: The Jack Kirby tribute edition
Cover by Glenn & Nikki Fabry

John Buscema, Frank Quitely, Bryan Talbot and Darryl Cunningham

David Pugh, Nick Abadzis, Liam Sharp/Robin Riggs and Edmund Bagwell

Jon Beeston, Gary Frank, Chris Weston and Al Davison

David Lloyd, Alan Davis/Mark Farmer, Sean Phillips and Lew Stringer

Ed Hillyer, D'Israeli, Colin MacNeill and Nigel Kitching

James Hodgkins aka Jimmy Broxton, Faz Choudhury, Simon Fraser (with characters from a Martin Millar novel & comic) and Chris Webster (who sadly doesn't seem to have done any comics work for years)

AND FINALLY....
John McCrea, Duncan Fegredo, Charlie Adlard and Shaky Kane

And as usual there's still loads of things l've missed out.

UKCAC 1995
Cover by Duncan Fegredo
I keep forgetting to show the comic award winners lists out of these. Don't forget these are voted for by 'the fans'.

Art Wetherell/Bambos, Frank Quitely, Sean Phillips and Cud's William Potter

Bob Lynch, Bryan Talbot, James Hodgkins (Jimmy Broxton) and Nigel Dobbyn

Phil Gascoine, Chris Bachalo, Dave Taylor and Jonathan Edwards

Alan Davis, Lew Stringer, Lee Sullivan and Chris Webster

Shane Oakley, Robert Corona, Roger Langridge and Jim Murray

And finally for today...
Chris Hogg (I do miss the comic double act Butler & Hogg), Alex Ronald, Jon Haward and Dom Regan
(My last one tomorrow)

UKCAC 1998:cover Woodrow Phoenix
The last UKCAC.
The convention has moved to Manchester from it's London home since it started in the mid1980s.
The UK comic industry looks very different now. Marvel UK,Dark Horse UK,Tundra UK etc all long gone.
But Warhammer has been launched.

Deadline and the Tank Girl monthly also long gone.
Some very good small press/self published titles are still being published. Slab-o-Concrete is publishing Ed Hillyer's 20th Century Club hence the first piece here.
Also here's Roger Langridge, Henry Flint and Kilian Plunkett

David Pugh, Shaky Kane, Andi Watson and Phil Elliott (Jonni Star was both a comic strip and a short animation for a computer magazine. It was written by Darryl Cunningham. More about this hopefully some other time)

Lew Stringer (on point), Dave Taylor, Staz Johnson and Will Pickering

2000ad was still going of course despite it's owners seemingly being uninterested in it. Some of 2000ad's talent was getting work on the new long talked about Warhammer comic from Games Workshop.
Colin MacNeill, Jon Haward, John Higgins and Phil Gascoine

Charlie Adlard, Colleen Doran, Joe Sacco and James Hodgkins (Jimmy Broxton)

Sean Phillips, Mike Perkins, Marc Laming (Laiming according to the book) and Mark Buckingham

Yes this was the year Duncan Fegredo had to squeeze his artwork round Kevin Smith's dialogue heavy scripts...
Terry Wiley's wonderful Sleaze Castle
Paul Staples's Slaine (Greg Staples?)
Glenn Dakin who had a weekly comic strip in The Sunday Times's comic section for 8 years

AND FINALLY...
and I mean finally
From me, but maybe some else wants to fill the gaps in, with the UKCAC years I don't have...?
Bryan Talbot, Alex Ross and Adrian Salmon.

Thanks for all the RTs and likes over the past week.
I did consider tagging all the artists into these tweets, but I thought some may be traumatised by seeing their early work! I could of made money out of them not to show it...
Thanks to the artists who said they enjoyed this.

Got another one. Photography suffers from poor lighting and the thin page this was printed on.
Anyway...
UKCAC 1989
Cover:John Bolton
Trident comics was launched by Neptune Distributors. This was in the days before Diamond. Titan and Neptune were the two big comic distributors.

Viz for many years was Britain's best selling comic by miles.
Here they have 5 pages of ads.
Show offs.

Garry Leach, Paul Grist, Simon Bisley and Dave Gibbons

Phil Elliott, D'Israeli, Ed Hillyer and Steve Whitaker

2000ad represented by
Steve Yeowell, Kev Hopgood, Simon Harrison and um... John McCrea possibly having some issues with the galaxy's greatest comic...?

Bryan Talbot, Kevin O'Neill, Arthur Ranson and Jim Baikie

around this time Games Workshop were planning to launch a Warhammer comic. Quite a few comic creators were involved in this.
According to Ark John Ridgway wrote & drew 33pages of 60 before the project was abandoned.
ABC Warriors artist SMS was involved.
Plus Jeff Anderson below

Steve Parkhouse, Robin Smith, Rian Hughes and David Hine (as I've said before, I do wish he was still drawing comics not just writing them)

Deadline connection
Jamie Hewlett, Phillip Bond, Julie Hollings, Dave Elliott and John McCrea with Davy Francis

Duncan Fegredo, Oscar Zarate, Ian Gibson and Nigel Kitching

Mark Buckingham, Lee Sullivan, Anthony Williams and David Pugh (this character appeared in Wildcat, in a story called Turbo Jones which Rebellion are reprinting next year)

Dougie Braithwaite, Graham Higgins, John Higgins and Hunt Emerson

Mike Collins, Woodrow Phoenix, Bob Burden and Andrew Wildman

And finally...
Still loads of things I've missed out.
Not sure if this was done especially for UKCAC, or whether DC adapted some existing artwork.
It's by Denys Cowan, so it's worth including here

Well here we go again...
UKCAC 1988
Cover by Jerry Ordway to celebrate 50 years of Superman
Look at that schedule! Moebius! Neil Gaiman interviewing Los Bros Hernandez! There's some interesting panel guest combinations.
Tharg was saying 'Yo!'
Crisis was launched
As was Deadline

(no mention of Deadline in this though this con marked the comic's debut)
AARGH! Hard to imagine now but it included Dave Sim and Frank Miller!
Before Diamond there was Neptune distribution, who competed with Titan owners of Forbidden Planet, lots of talk of unfair practices

1988 there was lots of post Watchmen/DKR/Maus optimism in the air, certainly for this 15 year old
Marvel UK were still going
I'd finally discovered the wonderful and now much missed Escape put together by 'the man at the crossroads'

the exclusive art that appears in this booklet was then auctioned off for charity
There's a lot of this & some good pieces too
Art: Glenn Fabry previewing his A1 contribution, Kev Hopgood 's Dredd, John Ridgway (abandoned Warhammer comic connection?), Trina Robbins/Steve Leialoha

John Higgins previewing his series with writer Jamie Delano World Without End, John McCrea's Dredd, Ian Gibson who would of been working for DC at this point on Millennium and Mister Miracle, and John Watkiss

John Bolton's Someplace Strange a rather nice comic with Ann Nocenti, some Hunt Emerson brilliance, Bryan Talbot's Luthor Arkwright brilliance and the crossover that never happened (at the time) by Alan Davis & Mark Farmer (Alan Moore & Davis we're due to do it at one point)

Game Of Thrones concept artist Will Simpson, Rian Hughes (long before Dare with Grant Morrison), a rather disturbing piece by Matt Wagner and The Creeper by Garry Leach

Woodrow Phoenix, Steve Yeowell, Dave McKean (would of been nice to see this in colour, he would of been working on Arkham Asylum at the time) and John Byrne who was a guest at the con

An A1 preview from Una Fricker (I'd always thought this was a pseudonym for Gary Leach but not so), Cam Kennedy (Light and Darkness War?), the brilliant Kevin O'Neill and Brian Bolland previewing his A1 creation

Jim Baikie with a Crisis preview, Dave Gibbons previewing Give Me Liberty, Ted McKeever's Eddy Currant (Ted another A1 contributor) and some bloke called Bryan Hitch....

Viz the best selling UK comic for quite a while now, bottom half by Chester Brown (wasn't there a controversy that he was charging for sketches, something apparently unheard of in UK), John McCrea & Davy Francis, Tony O'Donnell and Steve Whitaker showing casing his skills

Here's a special tweet devoted to artists with the surname ELLIOTT
First there's Phil Elliott
There's a large amount of Dave Elliott, the last piece is pencilled by Mike Collins
Dave Elliott would of been gearing up for the launch of the anthology A1 at this point

And here's the Heart Break Hotel centre spread. A rare piece with Alan Moore & Grant Morrison art appearing on the same page. Art:Moore, Gibbons, Gebbie, GROC, Barker (yes the horror writer), Morrison, Little, Elliott, Emerson, Buckingham, Talbot, Fegredo, Fabry, Parker & D Leach

There may be another UKCAC booklet next Sunday...
(I should add that James Robinson provides some of the photos and articles in this booklet)

UKCAC 1991
Simon Bisley cover plugging a big crossover between Judge Dredd & Batman. It was a big deal.
Akira was about to be released on video for the first time! (I actually won a copy from Blast! which didn't have cover art)
Interesting results in those award polls...

Distributor wars!
This year's UKCAC was sponsored by Pacific who wanted to shake up UK comic shop distribution. I don't think they got anywhere at all.
As you can see Titan weren't taking it lying down.
Diamond also had an ad. They would buyout Titan I

Marvel UK going strong. Image by Liam Sharp.
John Brown were about a month or two away from publishing the 7th and last issue of Blast!
Tundra now had a UK office with Dave Elliott as boss, for a 1992 launch.
Disney's Touchmark Comics were publicising titles they'd never print.

There's an ad for Toxic! which was weeks away from the last issue appearing.
Toxic! represented here by Kevin O'Neill (Marshal Law) & David Leach (The Driver)
I don't remember that Gary Frank piece appearing in the actual comic.

Deadline represented by
-Phillip Bond
-Jon Beeston
-D'Israeli
-Nick Abadzis

Batman by
-Edmund Bagwell
-John McCrea
-Peter Doherty
-John Higgins

You'll have to use your imagination on that Paul Grist piece. Looks like it was done in colour and has reproduced badly
-Darryl Cunningham
-Barry Kitson
-Murphy Anderson

-Paul Johnson who was working on a Hellraiser spin off at the time I think called Jihad
-Phil Gascoine who was drawing Dreadlands for Epic
-David Pugh
-Martin Hand

-Mark Buckingham: Miracleman
-Arthur Ranson: Tarzan
-Woodrow Phoenix: Doom Patrol
-Mike Collins &Mark Farmer: Thunderbolt

-Sean Phillips
-Hunt Emerson
-Dom Regan
-Lew Stringer

-Duncan Fegredo (Kid Eternity?)
-Phil Elliott
-Nigel Kitching
-Rian Hughes

-Alan Davis
-Gary Erskine (are these the characters from that comic he did with Warren Ellis?)
-Shane Oakley
And
that Dr Strange & Dr Who crossover you've always wanted by Lee Sullivan

-Denny Derbyshire
-Simon Harrison

Dark Horse was celebrating 20 years!

And finally a confession
I sometimes use to phone that extortionate premium rate Speakeasy news line when my parents were out. Comic news wasn't readily available back in those days...

UKCAC 1997
Cover: Frank Quitely
Back cover: Joe Kubery
Schedule insert cover: John McCrea
Inside: Phil Gascoine

Unlike last week's booklet this one is printed on cheap paper, which is also water damaged. Also there's less adverts.

-Steve Leialoha
-Al Davison
-Terry Wiley & Dave McKinnon
-John Higgins

-Jonathan Edwards
-Roger Langridge
-Dave Taylor with writer Ian Carey
-Paul Johnson

-Shane Oakley
-Paul Peart
-Martin Griffiths
-Jon Haward

-Simon Fraser
-Roberto Corona
-Chris Webster & Mooncat
-Lew Stringer

-Mike Perkins
-Gary Erskine
-Colin MacNeil
-Ed Hillyer

-John M Burns
-Robin Riggs
-Carl Flint
-Lee Kennedy

-Bill Messner-Loebs (I'd forgotten about this Image comic until I saw this)
-Paul Marshall
-John Short
-Blake O'Farrell & Andre Andette

-Staz Johnson
-Mark Harrison
-Terry Moore
-Mark Buckingham

-Mike Vosburg
-William Potter
-Jimmy Broxton

And finally...
-Robert McCallum
-Trina Robbins

As usual there's loads of work I've missed out.




You can follow @MrBitterwitter.



Share this threadBookmark

____
Tip: mention @threader_app on a Twitter thread with the keyword "compile" to get a link to it.

Enjoy Threader? Sign up.

Since you're here...

... we're asking visitors like you to make a contribution to support this independent project. In these uncertain times, access to information is vital. Threader gets 1,000,000+ visits a month and our iOS Twitter client was featured as an App of the Day by Apple. Your financial support will help two developers to keep working on this app. Everyone's contribution, big or small, is so valuable. Support Threader by becoming premium or by donating on PayPal. Thank you.

Download Threader on iOS.