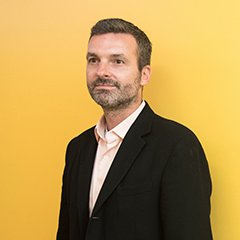 David Carroll 🦅
@profcarroll
associate professor of media design

@parsonsdesign

@thenewschool

teaching

@mfadt

and featured in #TheGreatHack in select theaters now and on Netflix
Nov. 21, 2018 2 min read
UNREAL: Facebook appeals its ICO Cambridge Analytica fine, essentially claiming UK Data Protection Act shouldn't apply since UK citizens didn't get sold off to SCL thru Kogan & Chancellor's GSR since were targeting American voters, who have no rights. https://www.bbc.com/news/technology-46292818 …
This is like Facebook telling Americans that they have no more protections under UK law "than a member of the Taliban sitting in a cave in the remotest corner of Afghanistan." https://www.theguardian.com/uk-news/2018/may/05/cambridge-analytica-uk-regulator-release-data-us-voter-david-carroll …
If this is Zuck's newly aggrieved "this is war" stance against his detractors…
Reminder: Zuck's first investor and board member Peter Thiel has a company called Palantir. Thiel's developer moonlit for Cambridge Analytica and helped design and build its illegal data harvesting scheme. https://nyti.ms/2GhF55r
Insane that Cambridge Analytica told its regulator that Americans have the same data rights as terrorists. Strange but true. And Facebook's appeal of its ICO penalty hints at a comparable argument over jurisdiction of processing data. https://ico.org.uk/about-the-ico/news-and-events/news-and-blogs/2018/05/ico-serves-enforcement-notice-on-scl-elections-ltd/ …
Facebook is appealing a paltry £500,000 fine for failing to abide by UK DPA in its dealings with Cambridge Analytica. This is despite facebook's suspiciously stubborn refusal to explain Kogan's co-founder and facebook hire Joseph Chancellor to Congress.
Facebook is appealing a paltry £500,000 fine despite the fact that its regulator has informed the public that questions remain as to whether illicit Facebook data was accessed from Russia. These matters have been referred by ICO to FBI.
Facebook has a right to appeal and this isn't shocking in the least because they reserved the right to appeal when asked if they would. But if there was a way to tell American voters that their privacy does not matter to Facebook this is how you do that. https://youtu.be/2jHo0VMNoP4
This is why the USA needs a data protection act. @SenBlumenthal asked tech industry if Americans deserve less privacy than Europeans (or Californians), the industry said no. And yet, Facebook is exerting its right to expliot our lack of protections to escape accountability here.
As the BBC article concludes, the stakes are very high. If Facebook wins its appeals it will badly weaken arguably the world's largest and most significant data protection regulator. Winning could be about undermining the little accountability that exists. https://www.bbc.com/news/technology-46292818 …
If part of Zuck's aggressive 'this is war' stance is no longer responding to opponents as PR problems then this Cambridge Analytica appeal is a new kind of defiance, because the optics of appealing the ICO's fine are…well…atrocious. https://www.wsj.com/articles/with-facebook-at-war-zuckerberg-adopts-more-aggressive-style-1542577980 …
You can follow @profcarroll.
Bookmark
____
Tip: mention @threader_app on a Twitter thread with the keyword "compile" to get a link to it.

Enjoy Threader? Become member.

Download Threader on iOS.