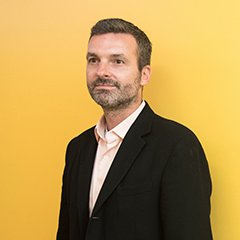 David Carroll 🦅
@profcarroll
associate professor of media design

@parsonsdesign

@thenewschool

teaching

@mfadt

and featured in #TheGreatHack in select theaters now and on Netflix
Dec. 07, 2018 1 min read
NEWS: I prevailed! Cambridge Analytica's administrators attempting to liquidate have conceded to our concerns about my undisclosed data. They have 14 days to fully disclose. Have they misled the court? Matter referred to the High Court. Stay tuned. Thanks as always to @RaviNa1k
Some coverage if you're just discovering my data quest.
🔗 https://www.theguardian.com/technology/2017/oct/01/cambridge-analytica-big-data-facebook-trump-voters …
🔗 https://www.motherjones.com/politics/2017/12/a-groundbreaking-case-may-force-controversial-data-firm-cambridge-analytica-to-reveal-trump-secrets/ …
🔗 https://www.wired.com/story/uk-regulators-demand-cambridge-analytica-hand-over-user-data/ …
🔗 https://motherboard.vice.com/en_us/article/d35vym/david-carroll-cambridge-analytica-facebook-legal-claim …
🔗 https://www.wired.com/story/david-carroll-the-us-should-pay-attention-to-foreign-cambridge-analytica-probes/ …
🔗 https://www.theguardian.com/commentisfree/2017/oct/03/data-tech-giants-trail-digital-age …

These articles are obviously from an earlier time when we didn't realize as much we do now how Cambridge Analytica may sit squarely within the Mueller, Congressional and Parliamentary investigations. But today is another vindication that we have always been correctly concerned.
Just yesterday, reports that Bannon is still getting grilled about Cambridge Analytica in the Senate Intelligence Committee. In 2 weeks, I may get first glimpse into Bannon's old dark databases. Thanks to his odd choice of profiling Americans in England. https://www.thedailybeast.com/senate-intelligence-committee-grilled-steve-bannon-about-cambridge-analytica …
Headlines and timelines will soon saturate with Manafort and Cohen coverage. But remember Sam Patten. https://www.vox.com/2018/8/31/17805310/sam-patten-mueller-plea-manafort …
Don't forget that Rebekah Mercer (Emerdata Ltd/Cambridge Analytica Holdings LLC) had Alexander Nix (SCL Elections Ltd) seek emails from Julian Assange (Wikileaks). https://www.cnn.com/2017/10/27/politics/rebekah-mercer-cambridge-analytica-clinton-emails/index.html …
Just want to clarify as it is a bit ambiguous from the thread that we won disclosure of the insolvency documents being denied to us by the administrators trying to wind-up some of the Cambridge Analytica companies. This is a step in the process to win full disclosure of my data.
It's quite convoluted and soaked in British understatement but strangely enough by refusing to hand over all my data the liquidators have been caught misleading the judge reviewing the CA/SCL insolvency.
https://www.theregister.co.uk/2018/12/07/cambridge_analytica_crowe_llp_misled_judge_allegation/ …
Why did Bannon and the Mercers process our data in another country? Especially one with data protection and corporate transparency laws.

Maybe they are not that smart?
Maybe we are all stupid for thinking that bad guys wouldn't use our data against us if they thought they could get away with it?
You can follow @profcarroll.
Bookmark
____
Tip: mention @threader_app on a Twitter thread with the keyword "compile" to get a link to it.

Enjoy Threader? Become member.

Download Threader on iOS.