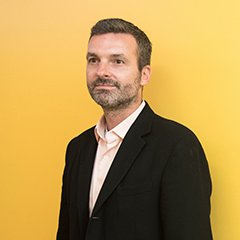 David Carroll 🦅
@profcarroll
associate professor of media design

@parsonsdesign

@thenewschool

teaching

@mfadt

and featured in #TheGreatHack in select theaters now and on Netflix
Dec. 15, 2018 1 min read
Cambridge Analytica's Director of Product, Matt Oczkowski (now Data Propria) cut his teeth doing data for Scott Walker. Then worked Brad Parscale's Trump digital op alongside colleagues from SCL Elections Ltd on allegedly incorrect visas. Real international players, these folks.
Y'all knew NRA was a Cambridge Analytica client, I'm sure. #TriggerTheVote https://www.yahoo.com/news/nra-used-cambridge-analytica-2016-172322385.html …
Oz himself was an SCL Elections Ltd employee. At least that was the name on his paycheck. A company headquartered in London, seemingly unfirewalled with SCL Group, a defense contractor specializing in TAA, a weapon said to be classified for export control by UK gov until 2015.
⬆️Citation for claim that foreign campaign workers may have been on incorrect visas at Parscale's "Project Alamo"
1️⃣mention of this in original NYT bombshell
🔗 https://nyti.ms/2GB9dK4
2️⃣official CA/SCL Mallins QC report in attempt to self-exonerate
🔗 https://s3-eu-west-1.amazonaws.com/static.assets.commercial.prd.cambridgeanalytica.org/static_files/Malins+Report+re+Cambridge+Analytica+and+SCL+Elections+(4.27.18).pdf …
Here's the profile on Oczkowski and his new venture owned by Parscale called Data Propria (which means personal data in Latin) and Oz says he gonna be ethical from now on. https://www.wired.com/story/data-propria-data-cambridge-analytica/ …
Citation for the claim that SCL Group as a defense contractor employed methods that were export controlled until 2015, here is witness Brittany Kaiser, former CA/SCL lieutenant to Alexander Nix, before DCMS committee. http://data.parliament.uk/writtenevidence/committeeevidence.svc/evidencedocument/digital-culture-media-and-sport-committee/fake-news/oral/81592.pdf …
You can follow @profcarroll.
Bookmark
____
Tip: mention @threader_app on a Twitter thread with the keyword "compile" to get a link to it.

Enjoy Threader? Become member.

Download Threader on iOS.