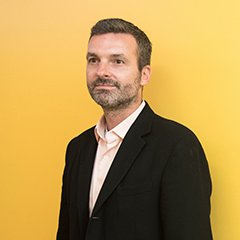 David Carroll 🦅
@profcarroll
associate professor of media design

@parsonsdesign

@thenewschool

teaching

@mfadt

and featured in #TheGreatHack in select theaters now and on Netflix
Dec. 18, 2018 1 min read
Bannon helped Brexit by offering his Cambridge Analytica as defence-grade TAA to sow group division in Britain. Brexit proved to Bannon that Trump could win.

Brexit taught Putin's IRA how secessionist influence campaigns could be iterated in the USA.
↗️Sources:
–Brittany Kaiser evidence to DCMS committee, LeaveEU proposal, p24 https://www.parliament.uk/business/committees/committees-a-z/commons-select/digital-culture-media-and-sport-committee/news/fake-news-kaiser-written-evidence-17-19/ …
–New Knowledge white paper for SSCI, p71 https://www.newknowledge.com/disinforeport
Kaiser also gave evidence to DCMS committee that boundaries between Cambridge Analytica and defence contract entity called SCL Group were porous. Note how TAA was articulated to win no-bid/sole-source contract with State Dept to study violent extremism. http://time.com/5372923/cambridge-analytica-state-department-terrorist-propaganda/ …
Guess who probably scored SCL Group's no-bid/sole-source contract for Bannon (Mercer, Nix, Oakes, Wheatland)?

Mike Flynn. While on the transition in Nov/Dec of 2016. https://apnews.com/bfc2de11c52f40929f24d42e56014014 …
What's going here? The post 9/11 "hearts and minds" PSYOPs designed to fight terror have been repurposed for political campaigns, while also leveraged by foreign influence operations like Putin's IRA or campaign-facing troll factories like PSY Group. https://www.emptywheel.net/2018/10/10/the-psy-group-proposal-a-way-to-measure-the-value-that-russian-hackers-provided-the-trump-campaign/ …
Electioneering has been militarized. Dirty campaigns run by defense contractors are treating the electorate no differently than terrorists. And they openly brag about it. https://www.wired.com/story/uk-regulators-demand-cambridge-analytica-hand-over-user-data/ …
DARPA has been studying memetic warfare for decades.

Thiel acolyte/alt-right-ish memetic warfare theorist published in NATO journal edited by SCL's PSYOPs vet.

Our information space has been transformed into a battlefield whether we realize it or not. https://motherboard.vice.com/en_us/article/xyvwdk/meme-warfare …
You can follow @profcarroll.
Bookmark
____
Tip: mention @threader_app on a Twitter thread with the keyword "compile" to get a link to it.

Enjoy Threader? Become member.

Download Threader on iOS.