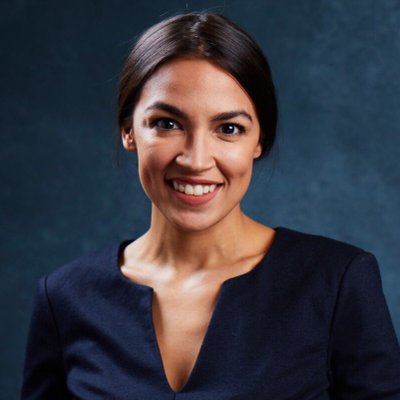 Alexandria Ocasio-Cortez
@AOC
Congresswoman for NY-14 (the Bronx & Queens). In a modern, moral, and wealthy society, no American should be too poor to live. 💯% People-Funded, no lobbyist💰.
Jan. 16, 2019 2 min read
I want to be very clear about how successful the work of grassroots organizers and activists have been in helping Progressives secure appointments to the powerful Financial Services Committee.

It starts, as w/ many amazing developments, w/ everyday people paying attention.
During + after the 2008 financial crisis, everyday people started to viscerally see the corrosive role of lobbyists writing in legal loopholes that allowed big banks to gamble with people's lives and the economy as a whole.

Occupy Wall Street emerged, and activism bloomed.
Activists zoomed in on one place in particular: the Financial Services Committee, which deals with big banks, real estate, and almost every interaction people have in dealing with their own money.

What they found was a place where big bank lobbyists were slipping in their work.
Fin Services is one of few exclusive committees.

The jargon around here is that they are the "money committees," not bc they oversee money,but bc one can fundraise from special interests by sitting on it and giving corporations a listening ear.

Until people started paying attn.
All of a sudden, normal people whose student loans were bubbling, whose mortgages were underwater, and so on, started showing up to committee hearings.

Including this guy: Monopoly Man

The idea was to show legislators that everyday people were watching.
https://m.youtube.com/watch?v=oq-nrL_U7Wg …
All of a sudden, it became harder for legislators to slip corporate-friendly legislation through committee, because people would write articles and their constituents would find out and grow upset.

As I've said before, it's People vs Money. We've got people, they've got money.
These legislators, under public pressure, couldn't deliver as much for big bank lobbyists.

They had to vacate one of the most powerful committees in the House. That made a space that big banks couldn't fill, and how we got *several* non-Corp funded members into places of power.
I cannot stress how important this moment is.

Dems are putting members who rejected corporate campaign money on a committee overseeing Wall St.

All because:
1. Everyday people donated to our campaigns, and
2. They started to pay attention + became activists in Congress
It's a huge win. Obviously there is work to do - there are other money committees (Ways & Means, Energy & Commerce, etc). But we've got one down. Before we had 0.

Keep paying attention, chipping into campaigns, and being activists. It works.
You can follow @AOC.
Bookmark
____
Tip: mention @threader_app on a Twitter thread with the keyword "compile" to get a link to it.

Enjoy Threader? Sign up.

Threader is an independent project created by only two developers. The site gets 500,000+ visits a month and our iOS Twitter client was featured as an App of the Day by Apple. Running this space is expensive and time consuming. If you find Threader useful, please consider supporting us to make it a sustainable project.

Download Threader on iOS.