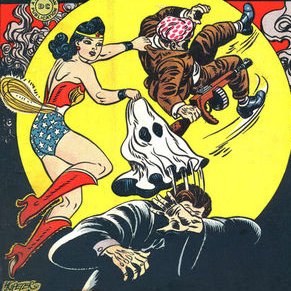 ☠️AnonymousComrade☠️
+

Your Authors
Archive
@anonymouscommie
Brothers, Sisters, We Don't Need this Fascist Groove Thing!⚔️ Citizen journalist. No More Heroes. Nazi Punks Fuck Off!
May. 03, 2019 2 min read
Patriot Front is a neo-Nazi organization formerly known as Vanguard America. They changed their name after one of their members committed a murder in Charlottesville after Unite the Right. Their leader is a high school student named Thomas Rousseau

Scrawny teenage quisling Thomas Rousseau in full LARP mode in one of Patriot Front's propaganda videos. The unintentional hilarity is tempered by the fact that these clowns have been involved in numerous violent incidents & have committed several murders.
https://youtu.be/N_CifUne9jE?t=34 …

We recently exposed one of Patriot Front's Florida Leaders as James Anthony Porebski, a Lacroix swilling, pink-shorted halfwit from New Port Richey


https://twitter.com/anonymouscommie/status/1088502884323471360
James Anthony Porebski, Nazi Douchebag, a real creep but there are plenty more Florida Nazis and we are going to expose every single one of them.

Let's start with this guy. On Discord, he goes by the handle Walking Holocaust. Maybe we are crazy but does anybody else think Walking Holocaust, Patriot Front Nazi From Florida sure looks a lot like a guy named Collin Brett Rikard? Thoughts?

One can never be too cautious, lets check some details. He lives in Florida and is a member of Vanguard America/ Patriot Front. We are off to a good start.

Here's some pictures of a guy who looks like Walking Holocaust/Collin Rikard hanging Nazi posters with his new Nazi friend Halfdan (Hey Dan! or should we say HayDen, we will get to you soon enough)

Those crazy Patriot Front Nazi kids are more fun than a barrel of monkeys, always roughhousing & other drunken shenanigans. In this instance, Collin ended up in the emergency room & they posted a picture from there. Wait, what does that wristband say? Hint: Collin Rikard

Collin Rikard goes by a few other names online including Collin Newplain, Justaseller, Notalza, notalzac. He is a low-grade racist troll, too old for shit like this. He should be ashamed of himself, it is really dumb stuff to be involved in.

Really, really dumb, racist shit and violent threats. Pizzagate? Shame on you Collin Rikard

He does have a girlfriend but according to Collin Brett Rikard, she's a Nazi too. That's a shame.

Collin Brett Rikard is not just a horrible human being, he is a really LOUSY driver too.

Collin Brett Rikard of Tampa, Florida is an active member of violent neo-Nazi organization Patriot Front and posts a bunch of racist, sexist, anti-semitic, anti-islamic bullshit. He is a total loser.

Plus, like his fellow Nazi Cody Delis, Collin Brett Rikard is an Ibanez man.
https://twitter.com/discord__panic/status/1124052206217572364?s=20
Patriot Front, wrecking young lives since 2017.

https://twitter.com/AntiFashGordon/status/1123975531916140544?s=20



You can follow @anonymouscommie.



Share this threadBookmark

____
Tip: mention @threader_app on a Twitter thread with the keyword "compile" to get a link to it.

Threader is an independent, ad-free project created by two developers. Our iOS Twitter client was featured as an App of the Day by Apple. Sign up today to compile, bookmark and archive your favorite threads.

Download Threader on iOS.