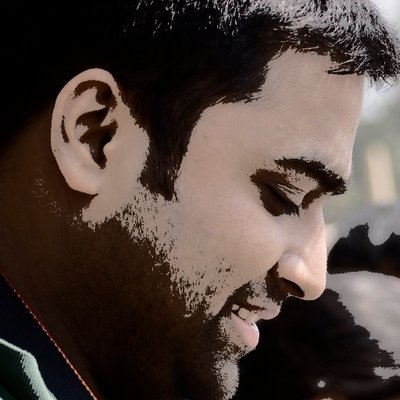 Heshmat Alavi
+

Your Authors
Archive
@HeshmatAlavi
Covering #Iran & #MidEast, especially what MSM won't. Have a passion for exposing Tehran apologists/lobbyists. Telegram — t.me/realHeshmatAlavi
Jul. 09, 2019 4 min read
THREAD

1)
Let's talk about @CNN's latest attempt to portray a dove image of #Iran's mullahs & the terrorist-designated IRGC by giving a platform to known Tehran apologist/lobbyist @nargesbajoghli.

To be fair, here's the entire interview:


2)
A few talking points used by Bajoghli:
-Most Iranians today do not remember the 1979 revolution & the Iran-Iraq War (meaning we should forgo all of the mullahs/IRGC crimes during that horrific period).
-The regime/IRGC are rebranding to nationalist viewpoints.

3)
Bajoghli claims the IRGC "is moving away from some of the founding stories of the Islamic Republic…"

Reminder - Iran armed forces chief of staff:
UK's seizure of Iran's oil tanker "will not go unanswered. If necessary, it will be responded in an appropriate time & place."

4)
CNN falls to the utter low of literally promoting Bajoghli & the IRGC's TV productions.

Such TV series are loathed & ridiculed by Iranians, and yet CNN is providing life support for the mullahs & the IRGC.
5)
Bajoghli blows her cover by saying, "I've been doing research with the Revolutionary Guards media producers for a decade now."

Notice how she uses the word "with" and not "about."
6)
Here Bajoghli is actually right.

Yet, she won't explain the IRGC's motive: Whenever the regime is terrified of popular protests & the threat of being overthrown, they resort to such tactics.

And now, they feel such heat that even CNN is needed to rush to their support.
7)
Here Bajoghli blows her cover again.

Only an Iranian regime apologist/lobbyist would describe such IRGC productions as "entertaining" & "higher production value."
8)
Here is Bajoghli's second objective: Blaming everything on Trump & the sanctions.

(And of course, that fits quite well into the CNN general narrative.)
9)
Bajoghli claims the mullahs were abiding by the 2015 nuclear deal.

She's lying, like all Tehran apologists/lobbyists do in this regard.

This thread explains.

https://twitter.com/HeshmatAlavi/status/1091038279238123522
10)
Here is Bajoghli's third objective:
The regime in Iran is innocent. All blame should be placed on foreign countries & entities pressuring the regime. And the Iranian people feel sorry for the regime.

(Of course, she provides no proof for her claims about the Iranian people.)
11)
A reminder about how the Iranian people feel about the IRGC & other regime security forces.

12)
CNN then promotes Bajoghli's recent @nytimes piece portraying a dove image of the IRGC.

See the trend in #FakeNewsMedia?

A Tehran apologist/lobbyist publishes a piece in NYT & then is interviewed by CNN, all to provide life support for the mullahs.

13)
And for those who don't know, Bajoghli & NYT were heavily criticized (and ridiculed) on social media as people said the piece was obviously written in Tehran, dictated to Bajoghli & published by the NYT.

14)
Moving on.

Here is Bajoghli's next & main objective:

Despite U.S. sanctions and despite the Iranian people's frustration, there is no solution other than accepting the mullahs' regime as they are.

Again, typical narratives parroted by Tehran apologists/lobbyists.
15)
Then Bajoghli parrots another talking point: criticizing the U.S. for the 1953 coup in Iran.

What Bajoghli & other Tehran apologists/lobbyists will not tell you is that the mullahs' regime, currently ruling Iran, actually welcomed that coup because it served their interests.

16)
Now it serves their interests to criticize the U.S. for that coup.
#Hypocrisy

This thread explains.

https://twitter.com/HeshmatAlavi/status/1031172891906334720
17)
Bajoghli claims the regime cares about Iran's sovereignty & national independence.
Question:
Why have the mullahs literally sold out the Caspian Sea?
Why have they sold out Iran's southern waters to Chinese fishing companies?
Why have they sold out the Chabahar port to India?

18)
CNN has a long history of rushing to the support of Iran's regime.

A few threads for those interested:

https://twitter.com/HeshmatAlavi/status/1097940303363952642
19)
@fpleitgenCNN of CNN has a history of reporting lies & #FakeNews about Iran.

https://twitter.com/HeshmatAlavi/status/1030174857567395843
20)
Here CNN provides a platform for Iran's FM @JZarif to spread his lies.

https://twitter.com/HeshmatAlavi/status/1031451831795425281
21)
Here CNN is providing a platform for the known & disgraced #Iran regime apologist/lobbyist Trita Parsi.

https://twitter.com/HeshmatAlavi/status/1059350447121727488
22)
Here CNN provides a platform for Ali Vaez to also parrot Zarif's talking points.

https://twitter.com/HeshmatAlavi/status/1122800995711504384
23)
This thread shows how U.S. President Donald Trump is making a fool out of CNN.

https://twitter.com/HeshmatAlavi/status/1130845096545361922
24)
Why is Bajoghli an apologist/lobbyist of Iran's regime?
-In April she claimed to send eye drops to Iran due to US sanctions
-Iran's news outlets report the regime's readiness to export medicine & medical equipment to Venezuela
-Bajoghli also makes up stories about war in Iran

25)
Finally, Iran's regime is known to have mouthpieces parroting their talking points & doing their dirty work abroad.

Listen to a former Iranian regime intelligence minister.




You can follow @HeshmatAlavi.



Share this threadBookmark

____
Tip: mention @threader_app on a Twitter thread with the keyword "compile" to get a link to it.

Enjoy Threader? Sign up.

Since you're here...

... we're asking visitors like you to make a contribution to support this independent project. In these uncertain times, access to information is vital. Threader gets 1,000,000+ visits a month and our iOS Twitter client was featured as an App of the Day by Apple. Your financial support will help two developers to keep working on this app. Everyone's contribution, big or small, is so valuable. Support Threader by becoming premium or by donating on PayPal. Thank you.

Download Threader on iOS.