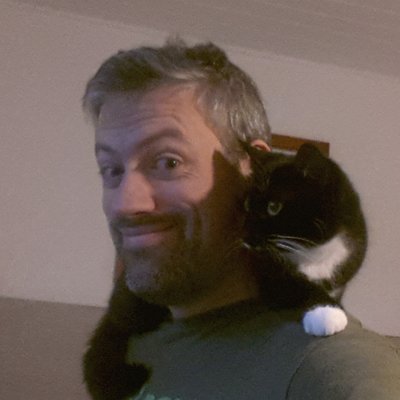 Ben See
@ClimateBen
Literature Teacher informing pupils of the scientific reality of the Ecological Catastrophe & urging them to act. See also

@urgenceclimatiq

& @ClimateHound
Aug. 17, 2019 1 min read
The planet's tropical forests are being destroyed at a rate of thirty soccer fields per minute, with catastrophic consequences for all life on Earth.

[THREAD]
Corporations like Nestlé and McDonald's are behind the continued destruction (both legal and illegal), or rather, the whole corporate capitalist political-economic system drives ecocide in the pursuit of infinite growth & profits (@guardian won't say this). https://www.theguardian.com/environment/2017/jul/21/pepsico-unilever-and-nestle-accused-of-complicity-in-illegal-rainforest-destruction …
As Global North powers oversee this grotesque annihilation of forests (and the deaths of trillions of sentient beings), such vast tree cover loss has huge implications for climate change, as it limits the ability of the planet to soak up carbon emissions. https://m.dw.com/en/climate-change-millions-of-hectares-of-tropical-forest-destroyed-in-2018/a-48472663 …
Common methods: burning trees & clear cutting.

These tactics leave the land completely barren. Clear cutting is when large swaths of land are cut down all at once: "an ecological trauma that has no precedent in nature except for a major volcanic eruption." https://www.livescience.com/27692-deforestation.html …
~50% of the world's tropical forests have been cleared.

Annual tropical rainforest destruction increased enormously in the past decade.
2018 was a difficult year for the world's tropical rainforests:

🔺Rising deforestation and/or the election of anti-environmental administrations in Brazil, Democratic Republic of Congo (DRC), and Madagascar.

🔺biodiversity 'lost more than it won'
https://news.mongabay.com/2018/12/the-biggest-rainforest-news-stories-in-2018/ …
⚠️ Tropical rainforests may be nearing a tipping point beyond which deforestation will spiral out of human control, a shift from human-caused destruction to self-collapse, as forest fragments shrink and die due to theit inherent instability. ⚠️

https://www.salon.com/2018/04/09/tropical-rainforests-may-be-near-a-tipping-point-beyond-our-control_partner/ …
Tropical forests are home to approximately 50% of all living things on earth.

⚠️ Africa's tropical forests are threatened by the Davos economic mindset. 90% of West Africa's coastal rainforest gone; Congo Basin deforestation has doubled since 1990.

https://www.weforum.org/agenda/2016/11/deforestation-africa-palm-oil/ …
11 places in the world (10 of them in the tropics), containing some of the world's richest wildlife, including endangered species such as orangutans and tigers, and home to indigenous communities, will account for over 80% of forest loss globally by 2030. http://wwf.panda.org/wwf_news/?245370 …
'By the year 2030, we might only have 10% of our forests left.'

Neoliberalism will not agree to stop the ecological apocalypse we are experiencing.

We need a new global economic system if the planet's tropical forests and their communities are to survive.
You can follow @ClimateBen.
Bookmark
____
Tip: mention @threader_app on a Twitter thread with the keyword "compile" to get a link to it.

Enjoy Threader? Sign up.

Threader is an independent project created by only two developers. The site gets 500,000+ visits a month and our iOS Twitter client was featured as an App of the Day by Apple. Running this space is expensive and time consuming. If you find Threader useful, please consider supporting us to make it a sustainable project.

Download Threader on iOS.