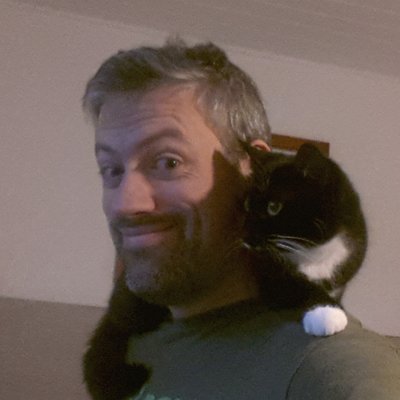 Ben See
@ClimateBen
Ben See. Literature Teacher informing pupils of the scientific reality of the Ecological Catastrophe & urging action. See also

@urgenceclimatiq

& @ClimateHound
Aug. 31, 2019 2 min read
Glaciers have shrunk to the lowest levels ever recorded and are now melting faster than ever, with catastrophic consequences for all life on the planet.

[THREAD]

The Catastrophe of Vanishing Glaciers. @DahrJamail
⬇️
https://www.theguardian.com/news/2019/jan/08/when-the-ice-melts-the-catastrophe-of-vanishing-glaciers?CMP=share_btn_tw …

Earth's glaciers have lost 9 trillion tons of ice since 1961 (the weight of 27 billion 747s).
https://mashable.com/article/warmest-june-climate-change-trend-2019.amp/?europe=true&__twitter_impression=true …

Receding glaciers - climate breakdown takes its toll.

The pictures from this 2012 article are striking:

https://truthout.org/articles/vanishing-glaciers-then-and-now/ …

Fleeing in panic as glaciers collapse...

The Cryosphere.

5 subsets of Earth's snow & ice:

🔹ice-caps
🔹polar sea-ice
🔹permafrost
🔹mountain glaciers
🔹snow-cover

Greenland & Antarctic ice-caps: rapidly losing mass⚠️

Arctic ice: going fast⚠️

Permafrost: collapsing⚠️

Glaciers & snow-cover: vanishing⚠️

Glaciers gone by the end of the 2020s...?

https://www.livescience.com/41930-kilimanjaro-glaciers-shrinking.html …

Glaciers gone by the end of the 2020s? https://time.com/4369987/this-scary-animation-shows-how-glacier-national-park-is-losing-its-glaciers/ …

Estimates on when the glaciers will disappear completely vary widely, from 2030 to 2080, depending on winter weather.

"These glaciers have been around for 7,000 years. What is important is that it will happen in our lifetime." https://www.pbs.org/newshour/science/glaciers-will-disappear-mainland-u-s-lifetime-scientists-say …

70% of the glaciers in western Canada are projected to be gone by 2100. The Matanuska Glacier's ancient ice is already rapidly vanishing. Mount Everest is transforming - thousands of glaciers across the Himalayas are likely to shrink by up to 99% within decades.

Gone within decades:

"We urgently need to see significant cuts in greenhouse gas emissions. This is the only way of avoiding long-lasting and irreversible glacier decline and the related major natural, social, economic and migratory cascading consequences" https://www.sciencedaily.com/releases/2019/04/190430105750.htm …

Existing tropical Andean glaciers in Bolivia, Ecuador, and Peru are retreating at an accelerated rate; and, should this continue, all glaciers below 5,000 meters above sea level will be drastically reduced or lost by 2030 or 2040. https://www.thegef.org/content/adapting-impact-rapid-glacier-retreat-tropical-andes …

https://www.csmonitor.com/Environment/2019/0215/Nearly-2-billion-people-depend-on-Himalayan-glaciers.-What-if-they-melt …

Himalayas.

Water levels in the Ganges and the Indus (two of the region's most important river basins) could drop significantly by 2050, threatening the livelihoods of millions. https://www.climatechangenews.com/2013/08/12/himalaya-glacial-melt-set-to-peak-by-2070/ …

Nearly 30% of Peru's glaciers have melted away since 2000, threatening a critical source of drinking water and irrigation for millions of people downstream:

'this once seemingly endless water supply could run dry in the coming decades'

https://e360.yale.edu/digest/peruvian-glaciers-have-shrunk-by-30-percent-since-2000 …

The political/economic systems of humanity are now the biggest cause of glacier melting:

Since the 1990s, anthropogenic contribution to glacial mass loss has increased markedly. https://science.sciencemag.org/content/345/6199/919 …

Warming is faster than what was expected back in 2015 when this article was written.

Will Canadian glaciers start to vanish in the 2030s?

https://www.climatechangenews.com/2015/04/13/canadian-glaciers-could-start-to-disappear-by-2040-scientists/ …




You can follow @ClimateBen.



Share this threadBookmark

____
Tip: mention @threader_app on a Twitter thread with the keyword "compile" to get a link to it.

Enjoy Threader? Sign up.

Since you're here...

... we're asking visitors like you to make a contribution to support this independent project. In these uncertain times, access to information is vital. Threader gets 1,000,000+ visits a month and our iOS Twitter client was featured as an App of the Day by Apple. Your financial support will help two developers to keep working on this app. Everyone's contribution, big or small, is so valuable. Support Threader by becoming premium or by donating on PayPal. Thank you.

Download Threader on iOS.