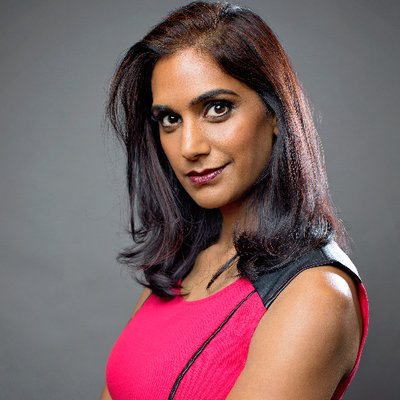 Asha Rangappa
@AshaRangappa_
Fmr FBI Special Agent, lawyer, faculty @JacksonYale. Tiger(ish) mom. @CNN analyst. Editor

@just

_security. Karaoke, golf, and Shakespeare aficionado. Views mine.
Nov. 21, 2019 4 min read
LOOOONG THREAD. If you are trying to make sense of Nooney Tunes' soliloquies everyday, I have the answer for you courtesy of this CNN political analyst's cite today. Put on your tinfoil hats, people.
2. While I hesitate to circulate this article further than the 4- and 8-chan sites where it now resides, it's important to understanding the alternate reality these people live in. The irony is, the article (if you read it) actually refutes their claims. https://www.politico.com/story/2017/01/ukraine-sabotage-trump-backfire-233446 …
3. This piece is written by @kenvogel, on January 11, 2017, before Trump's inauguration. It is (to me) a 10,000 word salad. I literally had to read this piece 5 times, and take notes and make flowcharts to make sense of it. But here is what you need to know:
4. First, the central allegation in the piece is that (unnamed) Ukrainian officials, with coordination with the U.S. embassy, were involved with exposing Paul Manafort's connections to Russia once he joined the Trump campaign (more on this below)
5. Second, the article's title -- which I assume is all of what 95% of people who see it read -- suggests that the Ukrainian government interfered on HRC's behalf in the 2016 election However, if you read closely, it is riddled with internal inconsistencies and contradictions.
6. Specifically, the article itself notes that "There's little evidence of such a top-down effort by Ukraine. Longtime observers suggest that the rampant corruption, factionalism and economic struggles plaguing the country — not to mention its ongoing strife with Russia —
7. would render it unable to pull off an ambitious covert interference campaign in another country's election." Further, the article states that "The Ukrainian efforts had an impact in the race, helping to force Manafort's resignation and advancing the narrative that Trump's
8. campaign was deeply connected to Ukraine's foe to the east, Russia. But they were far less concerted or centrally directed than Russia's alleged hacking and dissemination of Democratic emails." 🤔
9. Vogel's article cites one unnamed "Ukrainian-American operative" (not a government official) who was "consulting for the DNC" met with U.S. embassy officials in Ukraine to help expose Manafort. This exposure led to Manafort's resignation.
10. HOWEVER, Manafort was at the time being formally investigated by the FBI, and subsequently indicted (10/30/17) for his work as a foreign agent of Ukraine, on behalf of the pro-Russia Party of Regions. https://www.justice.gov/file/1007271/download …
11. Anyway, most of the article centers around a private U.S. citizen, Alexandra Chalupa (sounds familiar?) who was *already* investigating Manafort's ties with a pro-Russia Ukraine party -- which has since been vindicated by his INDICTMENT
12. Chalupa reported her findings to the US embassy in Ukraine and "occasionally shared her findings with the DNC"...she tried to facilitate a meting between the U.S. embassy and the Ukrainian President, Poroshekno, which the embassy DECLINED bc they "did not want to pick sides"
13. Not really clear where the connection is but the the anti-corruption agency in Ukraine -- an *independent* government agency -- provided documentation (pursuant to an evidence-sharing agreement with the FBI) that Manafort was receiving money from the pro-Russia party
14. ...which again is stated in his INDICTMENT ten months later...
15. **AN IMPORTANT POINT** The anti-corruption unit in Ukraine stated that it provided information of the payments to Manafort to the U.S. BECAUSE IT COULD NOT INVESTIGATE HIM PERSONALLY BECAUSE HE WAS NOT A UKRAINIAN CITIZEN...
16. Hello -- then WTH was Trump asking Ukraine to investigate the Bidens??? They have no jurisdiction over him BY THEIR OWN LAWS but anyway
17. Ends with how Ukrainian gov was frozen out by DJT team after election and to "have any access to Trump -- they are willing to pay big for it"...and that pro-Russian elements in Ukraine are "willing 'to pay a shit-ton of money' to get access to Trump and his inaugural events"
18. Notably, the article states that while then-President Poroshenko used a lobbying firm, BGR, to get access to Trump, a pro-Russia lobbying firm consisting of "'pro-Putin oligarchs' were already trying to sow doubts about BGR's work with Poroshenko
19. and that 'the firm maintains close relationships with GOP congressional leaders'" 🤔🤔🤔
20. In any case, I would welcome some Russia experts to comment on this as this is the very weird and outdated conspiracy theory that has been debunked by actual DOJ and IC actions and new elections and is still literally making its way into impeachment hearings and it is insane
My head hurts from reading and trying to tweet what this article means. More on this, if you are willing to read, here https://www.buzzfeednews.com/article/ryanhatesthis/ukraine-whistleblower-politico-story-dnc-telizhenko …
P.S. I realize this thread does not answer the mystery of "naked pictures of Trump" which Nooney is obsessed with, but I'm sorry I'm not researching that one and someone else needs to take one for the team 🙈
You can follow @AshaRangappa_.
Bookmark
____
Tip: mention @threader_app on a Twitter thread with the keyword "compile" to get a link to it.

Enjoy Threader? Sign up.

Threader is an independent project created by only two developers. The site gets 500,000+ visits a month and our iOS Twitter client was featured as an App of the Day by Apple. Running this space is expensive and time consuming. If you find Threader useful, please consider supporting us to make it a sustainable project.

Download Threader on iOS.