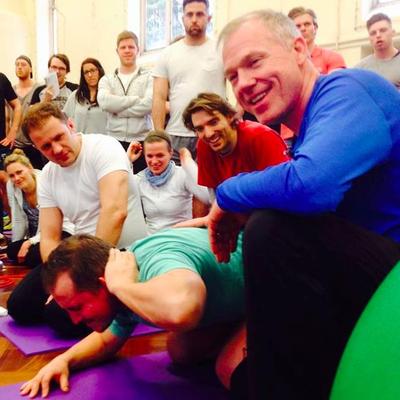 Craig Liebenson
+

Your Authors
Archive
@CraigLiebenson
Health advocate promoting sustainable athleticism & healthy longevity.
Mar. 16, 2020 3 min read
Online advice, video consults/training are available to practice "social distancing"-the new normal. Free patient education info is available at my website http://www.lasportsandspine.com . People who need musculoskeletal or lifestyle advice have many options.
2) Online advice & coaching is a valued service not only during unprecedented times like this. Video MD visits are becoming the norm during this crisis. Online Musculoskeletal & lifestyle advice, coaching, education etc. has certain surprising advantages over "face to face".
3) It gives people space to reflect on what they are learning thus enhancing decision making. People are less prone to expect a "quick fix" & more likely to engage is self-care.
4) Lorimer Moseley, PhD, PT (world renowned pain scientist) says education is our most important role & it is underestimated in value & difficulty. #painrevolution @PainRevolution
5) Now is an opportunity to enhance the delivery of person-centered lifestyle advice. Most of what influences our health is related to lifestyle. This in turn is socially determined. Daniel Lord speaks of the "tyranny of the visit". https://www.beckershospitalreview.com/patient-experience/physicians-give-patients-11-seconds-to-explain-reasons-for-visit-before-interrupting.html …
6) We can shift the perception of MS care from one requiring treatment & thus patient dependency on a clinician to one of patient autonomy.
7) "One where I am a trusting resource and guiding teammate to someone who is motivated and open to taking accountability for his or her health." Megan-Marie Delegas DPT

https://www.modernhealthconnection.com/blog-1/2019/3/17/the-benefits-of-digital-physical-therapy …
8) Through a digital approach involving a thorough Needs Analysis a person-centered profile can be created on an online platform.
9) Is this impersonal? "If executed correctly, I will argue the opposite. While the US still primarily has face-to-face visits with doctors & clinicians, the execution of patient care is not actually addressing the entirety of the individual through BPS approaches,
10) which consider the complex interactions of the biological, psychological, and social factors involved in one's health."
11) In a typical 30 minute MS appointment "what ended up getting left behind in those appointments was the psychosocial discussions versus the manual treatments. This rendered the patients more dependent on me and less autonomous in their role.
12) It also left me feeling disconnected from them, which detracted from building trusting relationships, and turned into a lose-lose situation for everyone."
13) Digital services enable clients to receive "strategic tools & plans to return them to activity & any other physical goals they may have: temporary exercise modification, stress management techniques, strength planning, nutrition guidance etc."
14) "While I'm not an arms width away from my clients, I still provide them with support and tools just as I would if I was together with them. With some digital space between us, however, they determine when and how they execute the strategies we come up with,
15) as well as are responsible for communicating their responses to me. As a result, they learn physical mindfulness, which is a critical skill to practice moving forward and is how I believe folks develop the confidence in self-managing many health conditions."
16) We are all connected through globalization. Our patients move away from us - or as in the current crisis are practicing "social distancing" - but we can still "guide by the side". Dr Lewit taught "Rehabilation is teaching people about self-management".
17) "What makes people sick is a combination of bad luck — exposures to viruses or other pathogens — and the state of their immune system"
18) Dr. Talia Swartz, assistant professor & infectious disease expert at the Icahn School of Medicine at Mount Sinai in New York.

https://www.nytimes.com/2017/12/29/well/live/does-a-strong-immune-system-ward-off-colds-and-flu.html …
19) "A healthful lifestyle clearly boosts the immune system, Dr. Tosh said, while the opposite is also true: Practicing unhealthy habits like not getting enough sleep, a poor diet and lack of exercise can weaken the immune system."
20) "The immune system's responsiveness typically declines with age, making older people more vulnerable to many pathogens than they were in their younger days."
21) These times are challenging. We've hit the pause button. Pollution is declining over China & Europe. https://atmosphere.copernicus.eu/amid-coronavirus-outbreak-copernicus-monitors-reduction-particulate-matter-pm25-over-china …
22) Zoom online meetings & education is something for us to become fluent with. We'll get through this. Out world in the future won't be the same one we we experienced. The future is uncertain, but it always was.
23) Hopefully, we will gain agility and be more conscious about slowing down, protecting Earth's environment and optimizing our own biological health.
You can follow @CraigLiebenson.
Bookmark
____
Tip: mention @threader_app on a Twitter thread with the keyword "compile" to get a link to it.

Threader is an independent, ad-free project created by two developers. Our iOS Twitter client was featured as an App of the Day by Apple. Sign up today to compile, bookmark and archive your favorite threads.

Download Threader on iOS.