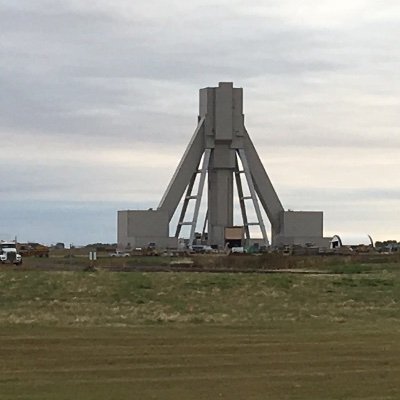 SASK
+

Your Authors
Archive
@saskexplorer1
Fan of miners and explorers - probably own too much of the latter but enjoy the thrill of the chase.
Apr. 18, 2020 3 min read
I've been taking the time to dig into heap leach producer $F.V and better understand the recoveries and those sorts of things. Thought I would share my findings. They have produced 20,835 oz through the first two Qs of their fiscal 2020. I think they have a shot at 50k oz. (1/13)
I assume no change to tons of earth moved from Q2 to Q3 to Q4. Strip ratio about to notably drop, per company. Was 1.8:1 in Q2. Drops to 1.2:1 by June. I assume 1.6:1 for current Q3. Thus, more ore tons are about to be mined. I assume flat ore grade, which could be wrong. (2/13)
They added the crusher last year. 90% of ore is going through the crusher now. Important especially for north pit ore. Recoveries are 80% for crushed south pit and 60% for crushed north pit. Numbers drop to 75% and 50% for run of mine for north and south respectively. (3/13)
The ore split between north - south is roughly 50-50 in recent year. So you might expect recoveries to trend to 70% (crushed) from 62.5% (ROM). Won't happen overnight though. While approx 80% of gold is recovered in first few months on pad, the rest takes many months. (4/13)
So that means the current Q is still impacted by lower recovery ROM ore on pads from over a year ago. And in any given quarter, recoveries could be impacted by proportion of gold on pads from north versus south pit. So I can't accurately predict % recovered for a quarter. (5/13)
But let's do that anyway. I did a table to illustrate what I could see happening from the above. I solved a couple numbers here from info given in recent Q2 update. The key assumptions are italicized for next two quarters. If any numbers change, my yellow cells change. (6/13)
The result is that I get to 30k ounces produced in back half of the year. I didn't try to engineer that number. There is nothing magical about 50k ounces for year though it is a nice number. I just ended up there. I tried to be realistic about recoveries. Who knows. (7/13)
If I know anything about human nature though, I bet mgmt works pretty hard to get to the 50k number if it's within sight. I've got the last 6 quarters in excel and have tried to estimate EBITDA for the next 2 quarters based on the above and prior data. (8/13)
The Pan mine is not low cost. Benefit to that is its profit per ounce shoots up on % basis if gold stays up here. (looks good on paper?) I've adjusted royalties up and depreciation up given expected production and assumed a high exploration expense for each quarter. (9/13)
I might be totally off my rocker but assuming gold price of $1650 for the rest of the year and all assumptions in table above, I could see EBITDA approaching 30 cents if they hit those gold production numbers. That is 30 cents USD. Fiore closed at 62 cents CAD today. (10/13)
Crazy part is it traded intraday as low as upper 20 cent range in the flight to liquidity last month. Wild. I assume there a numerous other heap leachers out there that offer compelling investments from these levels. I don't have time to dig through them all. (11/13)
Here is the dumbest trade I've done this year. Woke up one morning and against most instincts, added to my Fiore position at 66 cents. Almost top ticked the 2020 high. I thought big gold move was on deck. Was off by weeks. Ignored voice in back of head that said wait. (12/13)
Ignored some wiser people than me too. Fortunately my avg cost is much lower than that but that one really pissed me off when I thought about it later. In the end, I don't think it will matter if the current gold price sticks around and Fiore is able to execute. Thoughts? (13/13)
You can follow @saskexplorer1.
Bookmark
____
Tip: mention @threader_app on a Twitter thread with the keyword "compile" to get a link to it.

Threader is an independent, ad-free project created by two developers. Our iOS Twitter client was featured as an App of the Day by Apple. Sign up today to compile, bookmark and archive your favorite threads.

Download Threader on iOS.