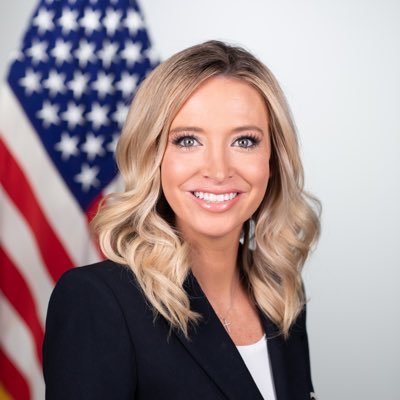 Kayleigh McEnany
+

Your Authors
Archive
@PressSec
@WhiteHouse Press Secretary. Connecting the American People to President

@real

DonaldTrump's agenda. Tweets may be archived: wh.gov/privacy.
May. 26, 2020 1 min read
🚨 Get the facts about mail-in ballots!

Will the media, and @Twitter, acknowledge these real concerns with mass mail-in voting?

THREAD ⬇️
In NV, excess ballots sent to inactive voters piled up in Las Vegas trash cans.

"What's going to happen w/ these things, they're NOT SECURED at all & there are THOUSANDS of them just sitting here. This just seems fraudulent to me, something stinks here." https://www.foxnews.com/politics/nevadas-vote-by-mail-primary-fraud-concerns …
According to the @reviewjournal, there has been an influx of absentee ballots that were "NO GOOD".

A 36 year-veteran carrier with USPS said recipients "all moved or died".

She kept 65 ballots from just her first delivery day‼️ https://www.reviewjournal.com/news/politics-and-government/nevada/primary-underway-but-argument-over-mail-election-continues-2031301/ …
The @postandcourier reported that mail-in ballots from South Carolina turned up in Maryland.

Even more, voters in Greenville County received wrong absentee ballots in the mail earlier this year.
https://www.postandcourier.com/politics/after-charleston-absentee-ballots-found-in-maryland-sc-considers-cutting-ties-with-printer/article_1da1a578-9ad8-11ea-a600-d3ff845d1c9b.html …
Just LAST WEEK, @TheJusticeDept announced the U.S. Attorney's Office & FBI in Philadelphia secured a guilty plea of an elections judge, who admitted to accepting

BRIBES

FOR

BALLOTS. https://www.justice.gov/opa/pr/former-philadelphia-judge-elections-convicted-conspiring-violate-civil-rights-and-bribery …
A @RealClearNews report found that, somehow, 112 percent of Los Angeles County is registered to vote.
https://www.realclearpolitics.com/articles/2019/06/20/calif_begins_removing_5_million_inactive_voters_on_its_rolls__140602.html …
In Los Angeles, 100,000 inaccurate voter-registration records were generated after a technical glitch.

The system inaccurately enrolled some voters for vote-by-mail, and 1,500 non-citizens were allowed to register to vote. https://www.realclearpolitics.com/articles/2019/06/20/calif_begins_removing_5_million_inactive_voters_on_its_rolls__140602.html …
A bipartisan commission led in-part by former President Jimmy Carter (a Democrat) concluded that mail-in ballots "remain the LARGEST SOURCE of potential voter FRAUD." 👇 https://www.propublica.org/article/voting-by-mail-would-reduce-coronavirus-transmission-but-it-has-other-risks …
In 27 states, a voter can designate someone else to turn in their ballot.

This practice leads to BALLOT HARVESTING.

For example, the registrar in Orange County, CA "reported in 2018 that his office had 'people dropping off maybe 100 or 200 ballots.'" https://www.wsj.com/articles/a-vote-by-mail-nightmare-11590189749 …
.@TexasTribune reported Dallas officials "sequestered" 700 "suspicious ballots" after "off the charts" complaints.

✳️ Voters received UNSOLICITED mail-in ballots.

✳️ A grand jury INDICTED a man for using someone else's mail-in ballot to vote.
https://www.texastribune.org/2017/07/23/texas-senate-panel-targets-mail-ballot-fraud/ …
You can follow @PressSec.
Bookmark
____
Tip: mention @threader on a Twitter thread with the keyword "compile" to get a link to it.