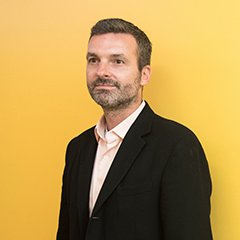 David Carroll 🦅
@profcarroll
associate professor of media design

@parsonsdesign

@thenewschool

teaching

@mfadt

and featured in #TheGreatHack in select theaters now and on Netflix
Mar. 14, 2018 1 min read
See how House Republicans did not want to probe deeper into Cambridge Analytica per the minority's memo detailing outstanding interviews and lines of inquiry. https://democrats-intelligence.house.gov/uploadedfiles/final_-_minority_status_of_the_russia_investigation_with_appendices.pdf …
Julian Wheatland signs the letter when an American voter requests their data from Cambridge Analytica (SCL Elections Ltd). This shows our data was processed in the UK by a military contractor. But House Republicans don't want to know this.
When asked by Member of UK Parliament @IanCLucas in @CommonsCMS, Cambridge Analytica CEO Alexander Nix described how data from Cambridge Analytica can be shared with SCL Group with security clearances. But House Republicans don't want to dig into this. http://data.parliament.uk/writtenevidence/committeeevidence.svc/evidencedocument/digital-culture-media-and-sport-committee/fake-news/oral/79388.html …
Nix: "The only relationship between Cambridge Analytica and SCL is some shareholders. Apart from that, they are completely separate entities."

False. When I requested for my voter data from SCL Elections Ltd regarding US election it came by email from [email protected]
Nix: "SCL is a very different company to Cambridge Analytica. It is a different company that has different employees who sit in a different office."

Nope. Up until around June 14, 2017, SCL Group was co-located at SCL Elections Ltd. (Cambridge Analytica) https://archive.is/JlkSn
Oh look, here's an email to me from Alex Tayler, Chief Data Officer at SCL Group from that time when I reminded him to comply with my Subject Access Request. He's mentioned in the House Intelligence Committee minority memo. If only House Republicans bothered to ask him questions.
Looks like @Arron_banks gave @CommonsCMS the LeaveEU voter analytics proposal from Cambridge Analytica/SCL and it includes illegal foreign fundraising activities in the scope of work. Whoops. http://www.parliament.uk/documents/commons-committees/culture-media-and-sport/Arron-Banks-appendix.pdf …
Why was Cambridge Analytica/SCL pitching LeaveEU an illegal campaign in the first place? (Why was Nix pitching domestic clients when he told Parliament they only work on foreign elections?) https://www.theguardian.com/politics/2018/mar/15/cambridge-analytica-illegal-foreign-donors-leave-eu-arron-banks …
Here's the part where Nix tells House of Commons committee why SCL doesn't even do elections work in the UK. So then why did they pitch Banks? And why did they propose illegal foreign campaign contributions as a tactic?

You can follow @profcarroll.
Bookmark
____
Tip: mention @threader_app on a Twitter thread with the keyword "compile" to get a link to it.

Enjoy Threader? Become member.

Download Threader on iOS.