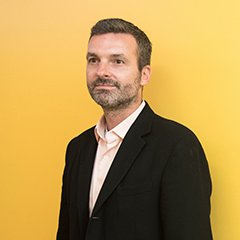 David Carroll 🦅
@profcarroll
associate professor of media design

@parsonsdesign

@thenewschool

teaching

@mfadt

and featured in #TheGreatHack in select theaters now and on Netflix
Mar. 27, 2018 6 min read
Livestream of Parliament @CommonsCMS oral evidence with #CambridgeAnalytica whistleblower @chrisinsilico and Subject Access Request and data protection rights expert @podehaye https://parliamentlive.tv/Event/Index/28e9cccd-face-47c4-92b3-7f2626cd818e …
2/ Wylie: #CambridgeAnalytica as a shell corp majority owned by Robert Mercer created to hide foreign actors and optics to obscure SCL Group, a military contractor with a tainted past. He came forward because military grade psychological operations have no place in democracies.
3/ RIPON project using "data exhaust" to build psychological profiles originated in discussions with Cambridge U faculty. But concerns not just about the data, more broadly example of modern day colonialism, harming fragile democracies, works illegally, ends justify the means.
4/ Suspicious factors related to Wylie's predecessor Dan Muresan (sic?) death related to Kenyatta work for Kenya, simultaneous work in India. Wylie heard he was working on "influence brokering" deal went sour, suspected poisoning, police bribery.
5/ @WendySiegelman's SCL chart is held up to talk about corporate structures. Wylie wagers there are more companies not yet found. Nix inherited his shares from his father, a salesman not a data scientist. Nigel Oakes founded SCL. Mercer lawyers pushed out shady Victor Tzhenguiz
6/ Wylie: These are people that are very wealthy. They need projects to keep them busy and like the idea of doing things in other countries. Nix especially wealthy, once late from picking up a £200K chandelier.
7/ Wylie describes how SCL Canada, later AggregateIQ was set up to accommodate Canadian employees he recommended, but was useful to make paperwork look better with different names for compliance and coordination. AIQ built RIPON for CA w/FB data. (See UpGuard breach)
8/ Wylie describes how SCL works with BlackCube (Isreali black ops group) doing hacks, getting kompromat and distributing videos of violent atrocities to intimidate voters.
9/ Wylie passed contractual docs from AIQ seeking raw ISP browsing data in Trinidad unlawfully. "Where did they get the data?" as a persistently key question for CA/SCL/AIQ
10/ @DamianCollins says @chrisinsilico provided new documents to @CommonsCMS and Chair says they will review with a view to publishing some of them. Allegations against work in Nigeria very serious.
11/ Did CA share its data with AIQ? Yes, refers to @dellcam Gizmodo article of @UpGuard software repository discovery (shows proof that illicit FB data used across AIQ/CA, at least). https://gizmodo.com/aggregateiq-created-cambridge-analyticas-election-softw-1824026565 …
12/ Wylie suggests Nix's statements before @CommonsCMS were dishonest, especially regarding use of Facebook data. @podehaye describes video of interns showing FB like data as accused.
13/ Wylie says he's a progressive euroskeptic so not about Leave or Remain but integrity of democracy. AIQ somehow became data vendor across various Leave campaigns thru SCL. Provided trove of docs to Electoral Commission proving coordination.
14/ Wylie describes AIQ knew it was unlawful. Considers it a money laundering scheme. Young Leaver Darren Grimes manipulated and made personally liable for a criminal conspiracy. Dom Cummings convinced him to drop out of school. Then Google Drive cover-up shows conspiracy.
15/ Did AIQ work affect outcome of referendum? Wylie uses doping metaphor to argue it doesn't matter because we just can't allow cheating. Cummings says himself that AIQ was the key. Conversion rates were incredibly effective.
16/ Collins: Who's responsible for the web of franchises? Wylie: when I was there it was Nix and Bannon. Conversion rates of 5-7% (very high for adtech where 1% can be considered successful campaigns) on American projects. 5-7M people were key targets.
17/ 5-7% conversion rates on a few hundred-thousand people doing things like donating and attending events is changing behavior at scale (performance that would make any marketer envious BTW)
18/ Asked about Nix's comments to Committee on Kogan's GSR as source of data where Nic said partnership wasn't "fruitless" but Wylie disputes it. "just not true"
19/ Wylie describes how Openness and Neuroticism psychometrics useful to find people open to conspiracy theories to predict how likely they'll respond to blogs or websites ("fake news") across multiple instances to instill doubt in MSM coverage. Target & surround the susceptible.
20/ Wylie: We started working w/ Kosinski and Stillwell. Kosinksi wanted $500K and 50% royalties. Kogan offered to do it on spec for data. SCL would pay Amazon Turk/Qualtrics recruitment (@Rochelle found evidence) to pay for costs, not Kogan. Not sure about deal after Wylie left.
21/ Wylie Asked if other companies out there that do similar work. Nix fascinated with Palantir thru Sophie Schmidt. Had several meetings with Palantir. Senior Palantir employees also working on the Facebook. (WHOA!) Not official contract. Palantir helped build the models. (BOOM)
22/ To Wylie: what legal threats are you under? Facebook is most threatening tbh and upset with story even tho it's SCL NDA he's breaking for public interest.
23/ @DamianCollins asks if models were created by the data and then the data could be deleted and Wylie describes the "derivative product" so even if they say they deleted the data but they retained the value, the information exists in a new form.
24/ Wylie suggests Committee look into Aaron Banks' potential use of his insurance company customer data set for LeaveEU advertising performance. Did CA have access to that data?
25/ Wylie describes how UKIP key to Bannon's plan because it was important for Americans to see that if England could Brexit then they could elect Trump.
26/ Wylie asked about Lukoil's interest in American voter data as witness to meetings/comms/pitches. Nix sent Lukoil whitepaper on RIPON US voter targeting capabilities, slides on Nigeria black-ops work. Nix refused to tell Wylie why voter data & disinformation campaigns for RU.
27/ Wylie not accusing Nix and Kogan actively colluding with FSB but points out it made massive US voter data base vulnerable. Also SCL Group's work in Baltics/NATO Stratcomcoe makes it an obvious RU intelligence target. Keylogger on Kogan and BOOM.
28/ @DamianCollins asks Wylie about Yandex cookies found on Breitbart. To the specifics, he has no answer.
29/ @podehaye says Romanian, Indian and Kenyan journalists need to collaborate to uncover story of death of Wylie's predecessor that was paid by Indian billionaire to make congress lose while appearing to work for them.
30/ Do you think Mr Mercer should be investigated for intimidation? Wylie: Absolutely. They use Black Cube. See Channel4 video that can't be aired.
31/ Wylie encourages Committee to invite Brittany Kaiser to discuss work in Nigeria.
32/ Asked about SCL/CA work for Scottish Referendum of 2014. Wylie says meetings took place but doesn't know about any work.
33/ @podehaye asked about how Subject Access Requests to Facebook to help trace how his data was used. Paul sought his Custom Audiences and Facebook Pixel data using PrivacyShield and Irish DPA. It has taken a year, painful process. Not yet sufficient to trace data use.
34/ @podehaye describing how Facebook is using an exception under Irish Data Protection Law that it's too expensive for Facebook to provide all his data to him. They say they are too big to be compliant to the law. Wow.
35/ @DamianCollins says it's extraordinary that Mark Zuckerberg being reluctant to appear before Committee given the explosive comments of the oral evidence hearing today.
36/ @podehaye mentions me and my testimony before Committee as to the importance of data protection law to create transparency when 200M+ Americans are having their sensitive personal data being processed in UK.
Fin/ Had to leave early to get on with my day but needless to say, this hearing was explosive. Check the official transcript for what people actually said and I'll post link here when I find it. Unreal.
You can follow @profcarroll.
Bookmark
____
Tip: mention @threader_app on a Twitter thread with the keyword "compile" to get a link to it.

Enjoy Threader? Become member.

Download Threader on iOS.